We believe everyone deserves to live in a beautiful home. One that reflects YOUR personal sense of style, what's important to YOU and the way YOU live. With 30 years experience in the industry, and an amazing portfolio of interior design work, Judith Mahlin Carter & her team can make your design dreams a reality.
Come home to a space you LOVE living in!
---
About Us
Interior décor and decoration has been a passion of Judith Mahlin Carter for more than 30 years.  As a past board member of the International Furnishings and Design Association (IFDA), Judith has been transforming the art of interior design in Arizona since 1991.
"People don't realize how much emotional stress is caused by living in a home that doesn't feel comfortable or function properly. Good design is not just about how a house LOOKS – but rather about the sense of comfort one FEELS in their own home."

Judith Mahlin Carter, IFDA, DSA
Why Choose Us
Spaces Interior Design offers fresh interior design ideas for your home living spaces. We design bedrooms, living rooms, family rooms, nurseries, kid's rooms, and patios.
We can help you with any residential project. We offer design services from hourly consultations to complete home renovations, including kitchen & bathroom remodels, fireplace updates, and outdoor living design.
We work with the area's top contractors and vendors, so you can be assured of satisfaction from design to project completion.
View our project designs.

Interior Design Projects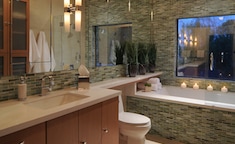 "[Spaces] integrated my desire for clean, contemporary lines, my lifestyle and somehow 'divined' my unspoken passions, to create a beautiful home environment for me to live in and enjoy." – K. Collins, Fountain Hills, AZ