Everyone thinks of candles as a way to rev up the romance factor in the bedroom. However,  if candles alone don't light your fire,  try some of these Tricks of the Trade:
Clear out the clutter (and that includes the kiddo's toys!)
It's amazing how much clutter can affect your mood, even if you don't realize it.  Why spend quality time in the bedroom focusing on that stack of laundry or pile of unopened mail?  Move it to it's proper place so you can focus on other things!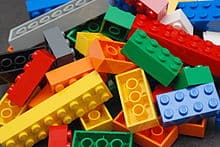 We can't stress enough that good bedding is worth the splurge!!  Choose a high thread count cotton sateen sheet, or something like bamboo (sounds crazy, but we promise it's worth checking out).
Re-paint a deeper, soothing wall tone
We're not talking red here – think blue, green, gray, or beige.
Lighting can make or break a room.  Putting overhead lighting on dimmers will make all the difference.  And don't forget about the ambient light – such as table lamps on the nightstands.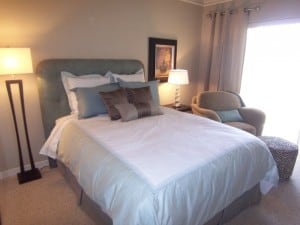 It's the simple touches that make a room feel finished and inviting.  Drapery adds just the right amount of softness while adding in texture and pattern.  And with so many great in-stock choices available now, it's truly a quick fix!