Life nowadays is complicated – we're always rushing here and there, and working way too hard. Our home should be our sanctuary away from the daily grind. We all deserve to have a little "luxury" in our lives, and especially in our home.
Here are a few things we feel everyone deserves to splurge on:
High-quality bedding.  There is nothing like crawling into bed after a long hard day and being comforted by some ultra soft sheets.  What to look for? Try bamboo (sounds crazy, but they are the ultimate in comfort!), or cotton sateen.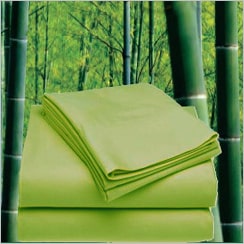 Artwork. Pick something that speaks to you – no matter what the subject.  And we're not talking all original art, just things that you are drawn to.  It could even be photos of your family – for impact, have them enlarged in black & white and use simple black frames. It's amazing how uplifting it is to walk into your home and be surround by things you love.
Good (matching) dinnerware.  After a long, hard day at the office it's sometimes hard to get in the mood to do even more work by cooking for the family.  Setting the table with my beautiful, chef-inspired, white dinner plates and chrome flatware always helps get me motivated.  I can pretend that I'm in a 5-star restaurant – as long as I can ignore the screaming child in the background 😉 Cloth napkins are another luxury that I can't do without.